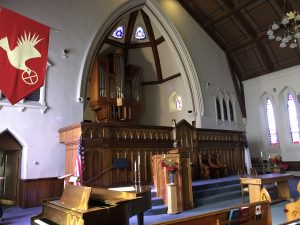 First Presbyterian Church of Plattsburgh is a member of the Presbyterian Church (USA) and is guided by the Bible as well as our Book of Order and Book of Confessions. Both documents are freely available from the PCUSA.org website for those who would like in-depth information about our denomination. This page is not meant to be an exhaustive list of our theology and beliefs, but rather a statement of clarity about our positions and policies as a welcoming and affirming congregation.
We believe that, throughout history, God has continually sided with the less-powerful and the marginalized. As such, we believe that Christians are called to stand with, support, and empower people who have been pushed to the edges of society.
We observe from the life of Jesus that He continually reached out to people who had been ignored, rejected, or cast out. Meanwhile, His harshest words were reserved for those who saw themselves as the most religious and most righteous. Eventually, those same religious leaders rejected Jesus and orchestrated His execution in an attempt to silence Him and suppress His teaching.
Based on what we have learned from Jesus' teachings, First Presbyterian Church of Plattsburgh welcomes and celebrates full, complete, and unlimited participation from anyone who seeks to follow the way of Jesus Christ, regardless of race, socio-economic status, sexual orientation, gender identity, or gender expression (commonly abbreviated as "LGBTQ+" or "LGBTQIA+").
We believe that our Book of Order makes it explicitly clear that "welcoming all people" is an essential part of what it means to be a Presbyterian Church (USA) congregation:
A congregation shall welcome all persons who trust in God's grace in Jesus Christ and desire to become part of the fellowship and ministry of his Church. No person shall be denied membership for any reason not related to profession of faith. The Gospel leads members to extend the fellowship of Christ to all persons. Failure to do so constitutes a rejection of Christ himself and causes a scandal to the Gospel.
Source: "Welcome and Openness" Book of Order, Presbyterian Church (USA) G–1.0302 (emphasis added)
We understand this "welcome" to apply to all aspects of the life of the church and all levels of participation, including ordination as elder, deacon and minister. This means that communion is open to all, that baptism is open to all, that weddings are open to all.
We also welcome those who might still be wrestling with the question of how (or if) they can put their trust in God and Jesus Christ, those who are not sure if they want to be part of a community of faith, and those who struggle to understand what they believe. We believe that questions and doubts are a part of a life of faith, and you are welcome to bring yours to church. (Our pastor brings his, so you'll be in good company.)
Our current pastor is male, but we have previously had women serve as pastors. Women have served (and many continue to serve) in all levels of church leadership, including our current Clerk of Session (our elected board of elders, responsible for the life and ministry of the church, together with the pastor). We previously had a trans woman as our Clerk of Session, and she was invited to preach at our regular Sunday morning worship services.
Our belief in the teachings of Jesus Christ also leads us to reject ideologies which are fundamentally incompatible with them, including racism, anti-Semitism and white supremacy.
We affirm the statement issued by leaders of the PC(USA) which condemns white supremacy and racism (written after the events in Charlottesville in 2017) which concluded with these words:
White supremacy and racism stand in stark, irreconcilable contradiction to God's intention for humanity. They reject part of the human family and are utterly contrary to God's Word made incarnate in Jesus. They are idolatries that elevate human-created hierarchies over God's freely given grace and love. They are lies about the human family, for they seek to say that some people are less than other people. They are lies about God because they falsely claim that God favors some people over the entirety of creation.
…we acknowledge the church's complicity in the creation of white supremacy and racism. We confess the church's failure in challenging and disrupting white supremacy and racism. Too often we have accepted the status quo. Too often we have stood silent in the face of injustice and oppression.
By God's grace may we remember the events in Charlottesville; repent of our acquiescence and failures; and renew our commitment to proclaim and live the good news of Jesus Christ. May that commitment lead us to stand against, speak against and work against racism and white supremacy, this day and every day.
Those who call themselves Christians but hate others, for whatever reasons, are liars, as 1 John 4:16–21 says:
God is love, and those who abide in love abide in God, and God abides in them. Love has been perfected among us in this: that we may have boldness on the day of judgment, because as he is, so are we in this world. There is no fear in love, but perfect love casts out fear; for fear has to do with punishment, and whoever fears has not reached perfection in love. We love because he first loved us. Those who say, 'I love God', and hate their brothers or sisters, are liars; for those who do not love a brother or sister whom they have seen, cannot love God whom they have not seen. The commandment we have from him is this: those who love God must love their brothers and sisters also.
A Bit More Information About Us
Watch previous sermons here to get a sense of what our worship services are like.
Childcare is provided during worship services at no cost and our providers undergo background checks before they are hired.
Don't worry about getting overly "dressed up" if you wish to attend. Most of our members dress for church the same way you would expect to see people around town during the rest of the week.
While our building is unfortunately not fully accessible, it is wheelchair accessible via the Marion Street entrance off of Brinkerhoff Street. This entrance leads to the sanctuary and Fellowship Hall, where most of our activities take place.
First Presbyterian Church of Plattsburgh believes that we are called to worship Christ, teach faith and practice love. If that sounds like something you would like to be a part of, we invite you to join us for worship on Sunday mornings at 10:00 a.m.
An optional time of coffee, snacks, and fellowship follows our worship service.
(Oh, and no one will ask you to wear a name tag, or fill out a card with your name, address, phone number, etc.)
If you have other questions which are not answered here, please contact our church office via phone or email, and we will be happy to answer them for you.